Chaff Your EHC!!
Calendar Participant
A Short set of shots from replacing these seals yesterday. Tranny had been leaking for ~ a year -- I was just putting off the job as it's mostly tearing down everything to get to the seal.
Parts:
HD 11165 O-Ring Quad Seal ($0.95)
HD 12067B Oil Seal, Mainshaft ($7.95)
Step one (no pics)
- Remove pipes
- loosen rear wheel to the stops so you'd be able to get the drive pulley off later
- drain tranny fluid (unless you're lazy like me)
Next, remove the pulley cover (mine's hydrolic and only has three bolts);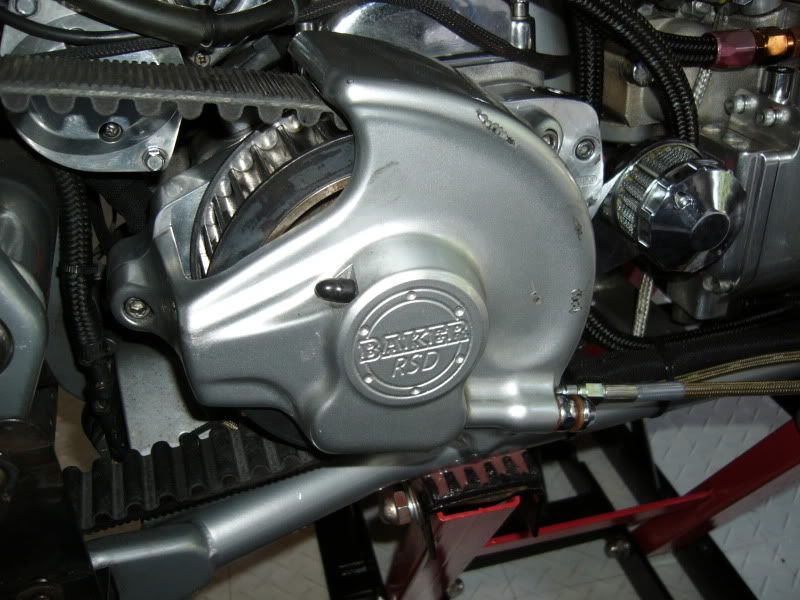 Not shown in the picture is a nut lock plate that has two 3/16 allen heads holding it. Remove this (that's why there are two threaded holes in the picture). Remove nut holding on the pulley. it's a 1-7/8 and is
left-hand threaded
. An impact wrench will get it off quickly. Move the drive belt out of the way.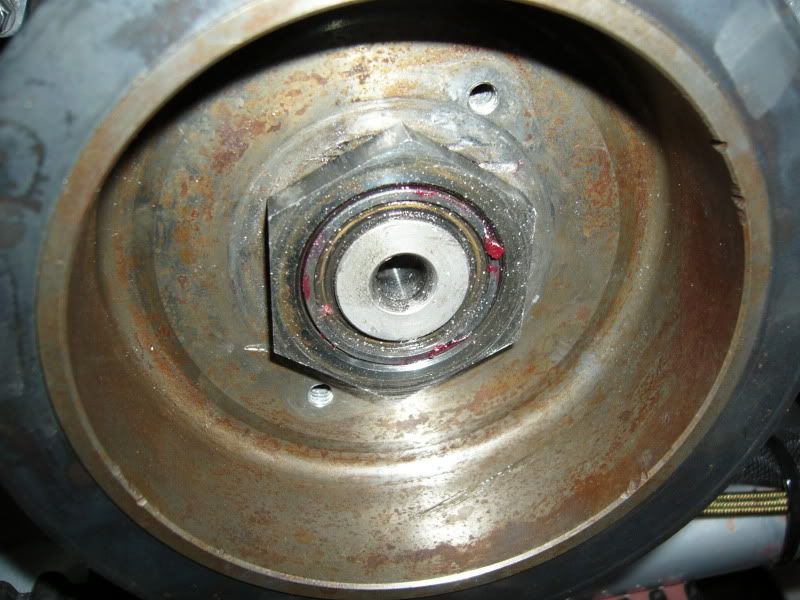 This is what you'll see once you slide the pulley off (There is a spacer in there that slides off the splined shaft)...the outer black is part 12067B. This is just pushed (not pressed) into the case. It can be removed with a seal puller or a screwdriver --- just pry evenly around the perimeter and it will pop out. The small black disk on the right is a seal for the countershaft. Mine was a bit loose and had some marks from the pulley, so I pressed it in with some gasket sealer...worth checking while you're in there.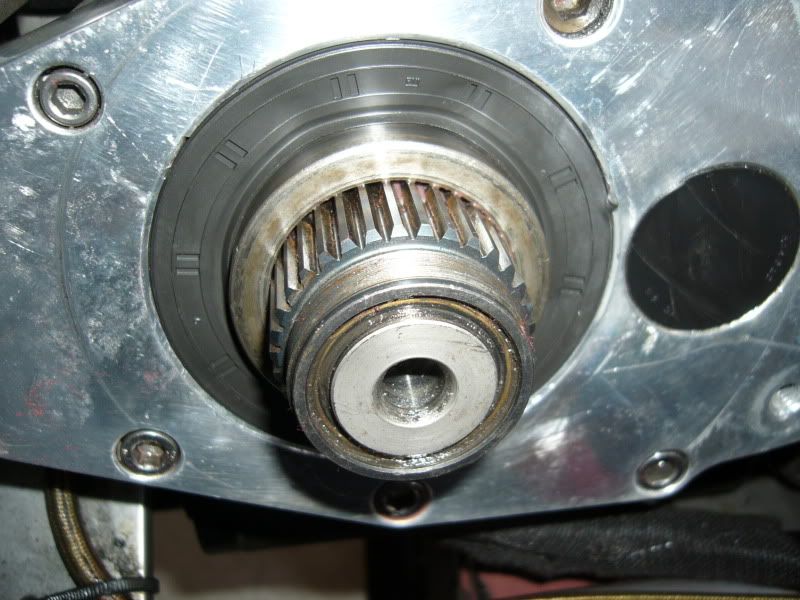 Old seal is on the left...replacement on the right.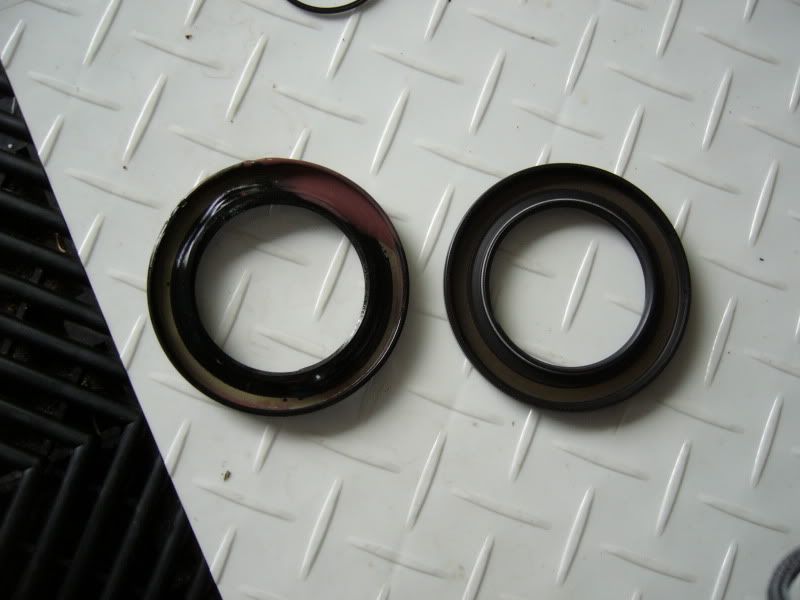 This is what you'll see once you remove the spacer and oil seal. Check the mainshaft for ANY play and check the bearings for scoring or damage.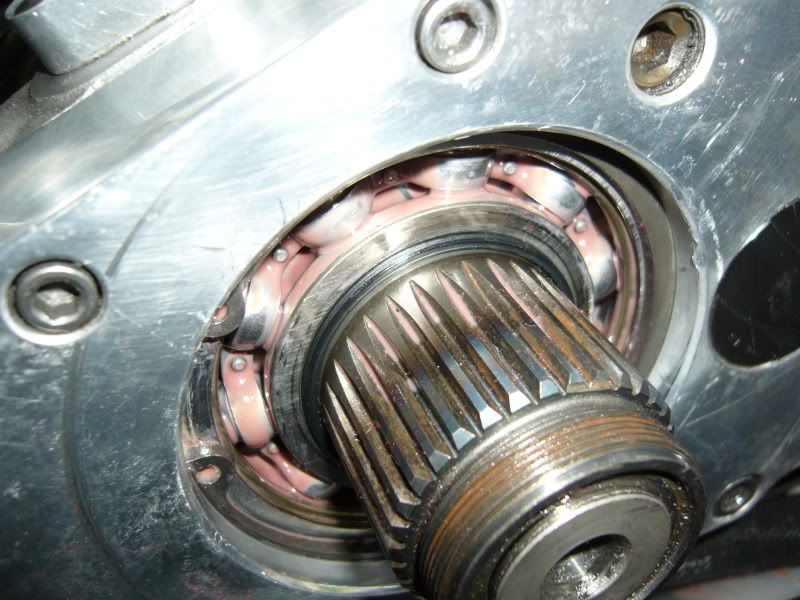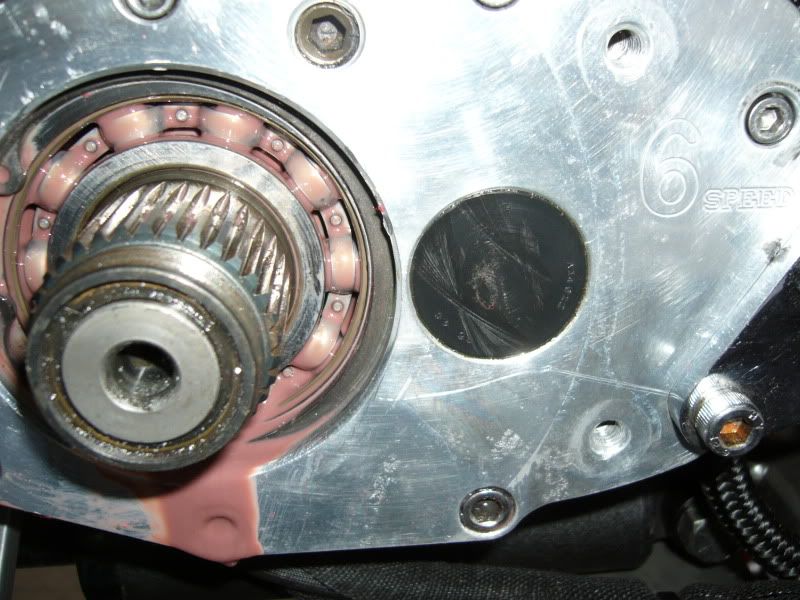 Replace the Oil Seal (12067B) by pressing it in and trapping it in place with a soft mallet. DO NOT use a drift or hard object as the seal is only rubber coated tin and will bend!
Part 11165 is the O-ring and it goes over the shaft BEFORE you put the spacer back on.
Now load up the tranny fluid -- it should take less than the full 20oz since you don't get it all out when draining. Put it all back together and you're done.
- Pulley Nut is 55-65 ft*lbs,
- the pulley cover bolts are 18-20 ft*lbs,
- exhaust stud bolts are 18 ft*lbs,
- the rear axle bolt is 45-55 ft*lbs.
Not a hard job at all, just takes time and a highly recommended impact wrench. Plan for 2.5-3 hours and $8.90 in parts :up:
Last edited: